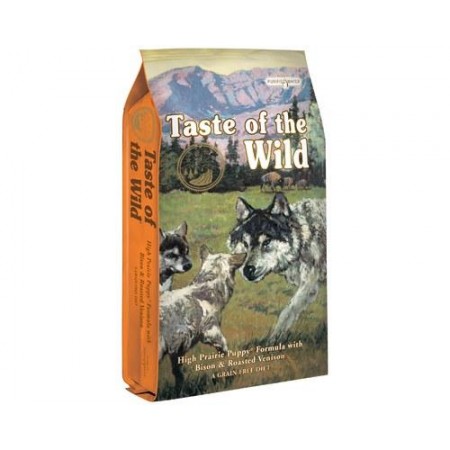 TASTE OF THE WILD HIGH PRAIRIE PUPPY
En achetant ce produit vous pouvez gagner jusqu'à 17 points de fidélité. Votre panier totalisera 17 points de fidélité pouvant être transformé(s) en un bon de réduction de 3,40 €.
Nouveau produit
Croquettes pour chien à la viande de bison rôtie et au gibier, avec des fruits et des légumes, présentant une appétence exceptionnelle. Sans céréales.
Ce produit n'est plus en stock
Attention : dernières pièces disponibles !
Date de disponibilité:
Les croquettes pour chien Taste of the Wild - High Prairie sont fabriquées aux Etats-Unis. Elles sont composées de bison et de gibier, accompagnés de fruits et de légumes. La formule de ces croquettes sans céréales, à base de patates douces et de petit-pois, apporte à votre chien des antioxydants naturels qui renforcent son système immunitaire et ce, quel que soit son âge.Les croquettes pour chien Taste of the Wild - High Prairie constituent une alimentation parfaitement adaptée aux habitudes alimentaires originelles de votre chien, tout en prenant en compte son style de vie actuel, constitué de repas réguliers et avec une mobilité réduite.

Caractéristiques des croquettes pour chien Taste of the Wild :

composées de viande de Bison et de gibier - Des sources d'énergie optimales qui apportent des protéines et des matières grasses facilement digestibles, et maintiennent votre chien en pleine forme
sans céréales - Les céréales représentent une source bon marché de protéines et d'énergie pour les croquettes pour chien. Ceci étant, les chiens ne sont pas habitués à manger des céréales dans la nature. Cette formule sans céréales offre à votre chien une alimentation équilibrée, pour une santé et vitalité optimale. Beaucoup de vétérinaires accusent les céréales d'être à l'origine de différents problèmes de santé, la teneur élevée en glucides peut en effet entraîner des problèmes de surpoids, d'obésité, de diabète, de digestion ou d'autres pathologies
avec une teneur équilibrée en protéines pour un apport optimal en acides animés - Les acides animés sont la base pour obtenir un corps en bonne santé. Les poissons de l'océan déshydratés contiennent un apport important en Omega-3 (DHA, EPA) qui favorisent la santé de la peau et la brillance du poil
assurent un meilleur système de digestion - Des racines de chicorée déshydratées et des extraits de Yucca Schidigera favorisent l'équilibre de la flore intestinale, développent le système immunitaire et renforcent les défenses naturelles
avec des antioxydants naturels - Les fruits et les légumes frais fournissent des antioxydants naturels et un apport garanti en zinc, en vitamine E et en sélénium
avec des acides gras riches en Omega - Les acides gras Omega-3 et -6 renforcent la santé et la brillance du poil de votre animal
avec des patates douces - Les patates douces exotiques sont nourrissantes et contiennent de la vitamine B et C, ainsi que des minéraux
contiennent des myrtilles et des framboises - Des fruits riches en antioxydants et en phytonutriments qui favorisent une meilleure protection des cellules
avec des tomates et des extraits de tomates - Riches en fibres pour une digestion saine, elles contiennent également des vitamines (Béta-Carotène) et des antioxydants puissants comme la lycopène
avec des minéraux - Des minéraux et des oligo-éléments sous leur forme naturelle et liés organiquement.